I've just received the finalized cover art for April m/m release
A Roof for the Rain
. May I introduce you to Jacob and Ethan, courtesy of cover artist Niniri: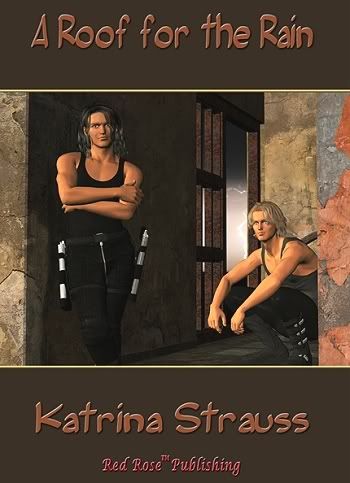 Yes, these would be my "pretty but slightly buff bishies" I've hinted about. Many thanks to Niniri, who proves that CGI art can be warm and fuzzy, if not downright H-O-T. You can view more of Niniri's work at both:
http://ironbutterflyaz.deviantart.com/
and
http://niniriaz.deviantart.com/
As for the story itself,
A Roof for the Rain
is a futuristic eco-apocalypse piece that will be sold as a Red Rose "Petal", or what I've termed along with other shorts like
Sleight of Hand
as a "dollar menu read" during these economically tight times. I'll update soon with a specific release date. (I've been told April but not which week yet.) So stay tuned!