Here's the new cover art for my next m/m novel,
Off the Beaten Path
, coming July 28th from Loose Id. All hail the mantitte, and a double dose at that! Many thanks to Marci Gass for a cover well done: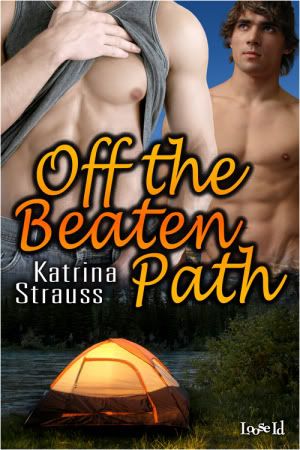 Want to know what's going on in that tent? Here's the scoop:
*****
Travis Bell is openly gay to family and friends, but as a college athlete, he chooses not to define himself by his sexuality. When he covers for a friend's misdeed, he's forced to negotiate his future without losing his lacrosse scholarship. The last thing he plans on is a "volunteer vacation" in the remote wilderness with Omega Beta Pi, aka Off the Beaten Path, a fraternity devoted to gay rights and environmental causes. Worse, Travis must share a tent with Kyle, an opinionated activist who also happens to be the hottest guy Travis has ever met.
A proud activist, Kyle Schafer disapproves of Travis's indifference toward issues affecting the environment and gay community. To his even greater annoyance, Kyle finds himself attracted to his shallow tentmate on a purely physical level. Travis goes against everything Kyle believes in, but that doesn't dampen the chemistry that sparks between them.
In a battle of wits and libido, Travis and Kyle venture into the uncharted territory of their deepest desires... and learn the path less traveled can lead straight to the heart.
*****
Want more of Travis and Kyle? Check back in the next few weeks for a juicy excerpt!